Nintenjoe's Jukebox / The Second Coming
Nintenjoe is back at it again with his own show! He'll be playing some killer video game music for your listening pleasure!
1 year ago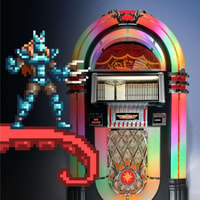 Track listing:
Block 1
Duke's Theme – Battle Arena Toshinden The Windmill Peak – A Hat in Time Strife and Ruin – Blasphemous Counter Attack – Xenoblade Chronicles 2 Venus – Contra Shattered Soldier
Block 2 - Arcade
Freeway – TMNT Arcade In A Tight Squeeze – Super Contra Shadow Elf in the Harsh Fight – D&D Shadow Over Mysteria Kombat Tomb – Mortal Kombat 2 Arcade Gargos Theme – KI2 Arcade
Block 3 - Chiptune Goodness
King Fish – Thunder Force 3 Genesis Highway Theme – Rollergames NES Special Stage Theme – Sonic 2 Genesis Stage 3 – Gremlins 2: The New Batch NES Funky's Fugue – DKC SNES
Block 4 - BIG Finish
Big Blue – F-Zero SNES Event Battle – Mega Man X: Command Mission GC Yellow Planet – Bucky O'Hare -NES The Climax of the Tower – Valkyrie Profile -PS1 You In Heep Big Trouble (Dark Horse) – Sunset Riders SNES
Final Song The Final Shellshock – TMNT Turtles In Time Arcade

----------------------------------------
Retro Ridoctopus is:
• Parasite Steve (read)
• 8-Bit Alchemy (listen)
• Nintenjoe (subscribe)
----------------------------------------
All original heavy metal music by Enchanted Exile
Retro Ridoctopus is part of the Dorkening Podcast Network, the Inebri-Art Podcast Network and is brought to you by Deadly Grounds Coffee!