Crow's Nest 23 - Batmobiles In The Belfry
The #1 most iconic vehicle in all of geekdom, we discuss and rate every on screen version of the Batmobile!
4 months ago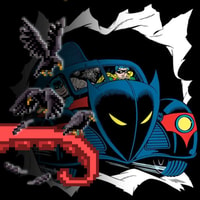 ZOOM! PLOWIE! Out of the shadows speeds this supplemental Crow's Nest!
Since we just talked about 8 awesome vehicles on our last mainline episode (080: Vehicles / Characters That Drive Us) we wanted to take the time to spotlight one we purposely swerved around. The Batmobile debuted in 1938 in Detective Comics #27 and has been cleaning up the streets of Gotham ever since!
For this episode, we cover and rate every film version of Batman's iconic wheels and even a few you might not be expecting!

----------------------------------------
Retro Ridoctopus is:
• Parasite Steve (read)
• 8-Bit Alchemy (listen)
• Nintenjoe (subscribe)
----------------------------------------
All original heavy metal music by Enchanted Exile
Retro Ridoctopus is part of the Dorkening Podcast Network, the Inebri-Art Podcast Network and is brought to you by Deadly Grounds Coffee!