S3E6 - Ep 056: Eddie Murphy, King of Zamunda (with Old Man Wade & Supawoke Javi)
We celebrate the career and films of comedy legend Eddie Murphy with our pals from The Old Man Wade Show!
6 months ago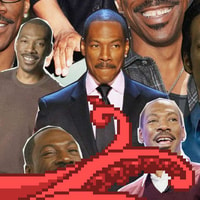 We welcome a couple of fantastic guests, Wade and Supa Woke Javi from the OLD MAN WADE SHOW to talk about comedy legend Eddie Murphy! We do a little history and dive right in to Coming To America and the newly released sequel, Coming 2 America! Then, each of us presents our own favorite Eddie Murphy movie. That's 7 movies in all with an Octoponder crammed in between!
Join us for lots of laughs and nostlagia and stick around for Nintenjoe's latest POWER TO THE METAL segment!
Check out the Old Man Wade Show on the web and listen wherever you get your podcasts!

----------------------------------------
Retro Ridoctopus is:
• Parasite Steve (read)
• 8-Bit Alchemy (listen)
• Nintenjoe (subscribe)
----------------------------------------
All original heavy metal music by Enchanted Exile
This podcast is powered by Pinecast.