S3E10 - Ep 060: Nintendo Hard / The Triumphant Return of Nintenjoe
Our 3rd host, Nintenjoe returns to the show as we spotlight some of the most difficult NES games ever made!
11 months ago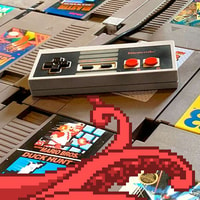 The man, the myth, our wayward third host... NINTENJOE is finally back!
The term Nintendo Hard has been used to describe video games that are especially challenging (Dark Souls for one). For this momentous episode, we'll spotlight some seriously hard video games on the original Nintendo. Some of these games are beloved classics and others are more obscure, but make no mistake... there isn't a cake walk in the bunch!
Later on, we'll read the answers to an OCTOPONDER THIS question we posted all the was back on May 20th! And finally, Parasite Steve will try hijacking one of 8-Bit Alchemy's classic B Segments from season 1!

----------------------------------------
Retro Ridoctopus is:
• Parasite Steve (read)
• 8-Bit Alchemy (listen)
• Nintenjoe (subscribe)
----------------------------------------
All original heavy metal music by Enchanted Exile
This podcast is powered by Pinecast.