S3E12 - Ep 062: Toys with Holograms / We Got Rub Sign!
Forget karate chop action... in the 1980s, holograms were all the rage!
1 year ago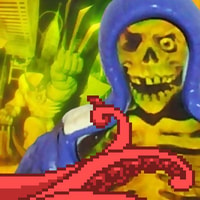 In the late 1980s, holograms were considered to be wondrous things of high futurism--a blend of art and science, of 3 dimensional magic and lasers. In short, they were really cool and absolutely freaking everywhere.
In this episode, we try our best to explain a little about what holography is and how holograms are made. Then we'll spotlight four retro toy lines which incorporated the technology... Transformers, Battle Beasts, Super Naturals & Visionaries!
And later on, Nintenjoe will spotlight some Super C enemies, with his first ever DIE MONSTER!

----------------------------------------
Retro Ridoctopus is:
• Parasite Steve (read)
• 8-Bit Alchemy (listen)
• Nintenjoe (subscribe)
----------------------------------------
All original heavy metal music by Enchanted Exile
Retro Ridoctopus is part of the Dorkening Podcast Network, the Inebri-Art Podcast Network and is brought to you by Deadly Grounds Coffee!
This podcast is powered by Pinecast.