S3E14 - Ep 064: The Nintendo 64 / Dealing with Mental Health
For our 64th episiode, we present our favorite N64 games before veering into a spontaneous but heartfelt sidebar on mental health and how it has affected one of our own.
1 year ago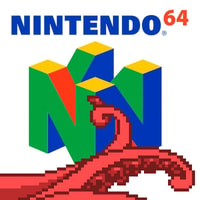 The runtime on this one is a bit long, so buckle up!
For our 64th episode, we HAD to talk about the much loved third major Nintendo console, the N64! Your Octo-hosts present some favorite games for the system like Mario 64, Ocarina of Time, as well as a bunch of weird ones you might have missed!
Later on, we enter a sidebar about how Nintenjoe is dealing with his struggles with mental health. This part was totally unplanned but completely honest and heartfelt. It didn't fit the main discussion but we all felt it absolutely had to be left right where it was.
We also read your answers to this week's Octoponder This question before ending things with 8-Bit Alchemy's b-segment. This week, he takes a turn presenting a new game that plays like an old game for his first ever Retro Nouveau!

----------------------------------------
Retro Ridoctopus is:
• Parasite Steve (read)
• 8-Bit Alchemy (listen)
• Nintenjoe (subscribe)
----------------------------------------
All original heavy metal music by Enchanted Exile
Retro Ridoctopus is part of the Dorkening Podcast Network, the Inebri-Art Podcast Network and is brought to you by Deadly Grounds Coffee!
This podcast is powered by Pinecast.