S3E8 - Ep 058: 16bit Hidden Gems (with Russ Lyman)
With the help of awesome YouTuber Russ Lyman, we spotlight 8 obscure but incredible games from the Genesis, TurboGrafx-16 & Super Nintendo!
5 months ago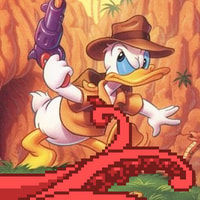 With help of our bud, Russ Lyman (YouTuber, gamer, DIY creator, that Mario car guy) we dig up some hidden gems from the 16bit era! That means that game for the Super Nintendo, Sega Genesis and even the TurboGrafx-16 are all on the table! Listen to find out which ones we chose to spotlight! Heck, maybe you'll find some new stuff to play!
Later on we'll ask this week's Octo Ponder This (what game did you love even if most others didn't) and read off what the Retroids had to say in our FaceBook group! And to end things, 8-bit Alchemy will drop one final game for his first ever edition of Retro Nouveau!
Check out Russ Lyman's super fun channel on YouTube and find out what he's doing this time! New videos twice a week on gaming and a ton of creative DIY prrojects! https://www.youtube.com/channel/UC0iCYFvEbwPs-zwOhbVdLZQ

----------------------------------------
Retro Ridoctopus is:
• Parasite Steve (read)
• 8-Bit Alchemy (listen)
• Nintenjoe (subscribe)
----------------------------------------
All original heavy metal music by Enchanted Exile
This podcast is powered by Pinecast.