Crow's Nest: Our Favorite Marvan (behind the scenes with Andrew Parks)
We had a little too much fun with Andrew Parks when he was in the BRIG including this bonus preamble that just didn't fit anywhere else!!
4 months ago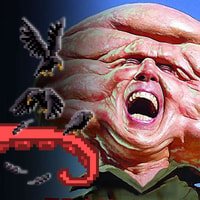 We hope you enjoy this supplemental mini-episode! This was taken from the unpublished pre-interview from our recent BRIG with veteran actor Andrew Parks!
Not only do you get about 20 minutes of more Andy, you'll be "treated" to some unedited behind the scenes stuff for the podcast itself. Retro Ridoctopus has never published anything like this before and we hope you all dig it!

----------------------------------------
Retro Ridoctopus is:
• Parasite Steve (read)
• 8-Bit Alchemy (listen)
• Nintenjoe (subscribe)
----------------------------------------
All original heavy metal music by Enchanted Exile
Retro Ridoctopus is part of the Dorkening Podcast Network, the Inebri-Art Podcast Network and is brought to you by Deadly Grounds Coffee!