S4E7 - Ep 074: Blue Streak / Sonic Through The Ages (with Aldo Araujo)
Sonic the Hedgehog, SEGA's speedy blue ball of attitude has gone on to become one of the true icons of gaming. Let's discuss!
3 months ago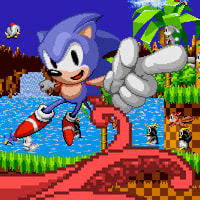 A Blue Streak speeds by and wouldn't you know... it's SONIC THE HEDGEHOG!!
The video game icon raced onto the scene in 1991 and has been doing loop-de-loops and bopping badniks ever since! For this extra long episode, we welcome SEGA aficionado, Aldo Araujo to chat about more Sonic games than you can shake a leg at. We cover such classic systems as the Genesis, Game Gear, SEGA CD, Dreamcast and beyond! Just try to keep pace!
Later on, we'll ask this week's OCTOPONDER THIS question before Parasite Steve takes us across the finish line with another tome for the BOOKSHELF OF THE DAMNED!

----------------------------------------
Retro Ridoctopus is:
• Parasite Steve (read)
• 8-Bit Alchemy (listen)
• Nintenjoe (subscribe)
----------------------------------------
All original heavy metal music by Enchanted Exile
Retro Ridoctopus is part of the Dorkening Podcast Network, the Inebri-Art Podcast Network and is brought to you by Deadly Grounds Coffee!
Find out more at https://retro-ridoctopus.pinecast.co
This podcast is powered by Pinecast.