S4E10 - Ep 077: Iceland Goes Back To The Future (with Leikjarinn)
We buckle into the DeLorean, hit 88 MPH and travel back to one of the most beloved movie trilogies of all TIME.
2 months ago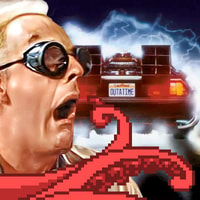 With the help of our favorite Icelandic pal, Birkir Fannar (AKA Leikjarinn, AKA Leik) we travel BACK to 1985 to gush over the classic movie trilogy BACK TO THE FUTURE. We discuss the films themselves and what they've meant to us over the years. Leik (who stayed up really late to record with us due to the time difference) goes into how huge the movies were in Iceland, providing a unique cultural perspective as well as plenty of laughs.
Later we'll ask this week's OCTOPONDER THIS and read the answers all you RETROIDS left in the group. And finally Parasite Steve will drop his first DIE MONSTER of the season!
Follow Leik on Twitter @Leikjarinn and watch out for his new YouTube channel when it drops!

----------------------------------------
Retro Ridoctopus is:
• Parasite Steve (read)
• 8-Bit Alchemy (listen)
• Nintenjoe (subscribe)
----------------------------------------
All original heavy metal music by Enchanted Exile
Retro Ridoctopus is part of the Dorkening Podcast Network, the Inebri-Art Podcast Network and is brought to you by Deadly Grounds Coffee!
Find out more at https://retro-ridoctopus.pinecast.co
This podcast is powered by Pinecast.